---
Sun and UV protected Vinyl Windows and Sliding Patio Doors by SunView
Our SunView windows and doors give your home a bold new appearance. We use high quality vinyl and hardware that translates into a smooth, durable window for your home.
---

High Quality Sash & Frame
Fusion welded corners in both frame and sash ensure exceptional structural strength and barrier against air and water penetration
Attractive beveled exterior provides beauty and rich look
uPVC unplasticized vinyl compound
Smooth, maintenance-free surface
Concealed hinges
Multi-chambered insulating design for added strength and energy efficiency
Quality hardware. Cam-action, multipoint, non-corrosive locks draw sashes together for a tight seal.
---
Superior Weather Resistance
Double-strength, SolarBan70 LowE insulated glass comes standard for the ultimate in UV protection, comfort and energy savings. The insulated glass pack isbonded to thesash to create astructurally soundwindow, resistant toweather intrusion
Super Spacer isthe most innovative and warmest, non-metalglass spacer system for maximum energy efficiency
Double & triple weatherstripping
Multipoint weather sealing locks
---
Easy andSimple Operation
Both double and single hung windows feature a tilt-in or 90 sash for easy cleaning
Qualitybalance system for a smooth, quiet, and maintenance free use
Contoured integral lift rail for easy window operation
Many available accessories to enhance installation and use, including matching extension jambs, casing, baseshoeand multiple grid options in the air space.
---
Energy Efficiency and Savings
All of our windows are Energy Star Approved
Exceeds NFRC Standards
---
Excellent Warranty
---
PINNACLE WINDOW STYLES
Double-Hung
Double-hung windows are the most common choice for homebuilders. Double-hung windows contain two panes which both slide vertically.
Awning/Hopper
Awning
- Similar to a casement window as it also opens on a hinge.
Hopper
- Essentinally the same as an awning window, but opens at the top rather than the bottom. For obvious reasons, this style does not direct rain away from the interior.
Casement
Like doors, casement windows pivot on hinges. This style often opens outward and may be operated with a hand-crank. According to Better Homes and Gardens, casement shapes tend toward the tall and narrow, so wide wall openings usually feature several.
---
Picture/Transom/Fixed
A picture window is a fixed window that does not open or close. Picture windows are often used as transoms (side lights) next to a large window or door or as a large window to provide an expanded view.
Sliders
These windows open horizontally. On a single slider, only one side operates. On a double slider, both sides operate. We make a variety of sliding windows which can also be tilted in, swing in, or lifted out for easy cleaning.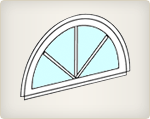 Specialty
Lindsay has several other types of windows that may be right for your application. Just ask!
Go Back
See Why Our Customers Love Talking About Us

Our Reviews